DO YOU SUFFER FROM CHRONIC DRY EYES?
DRY EYE DISEASE (DED)
WHAT IS CHRONIC DRY EYE (DED)?
DED is a complex disease of the tears and ocular surface that results in symptoms of discomfort, visual disturbances and tear film instability. If left untreated, DED can damage the ocular surface.
WHAT ARE THE RISKS FOR DEVELOPING DED?
CERTAIN MEDICATIONS ex. anti-histamines, anti-hypertensives, decongestants, diuretics, oral contraceptives
CLIMATE - heat, air vents
EXTENSIVE VISUAL TASKING ex.long hours at the computer
AGE- Aging increases risk for DED development
NUTRITION - diets too high in unhealthy omega-6 fatty acids and too low in healthy omega-3 fatty acids
WHAT CAUSES DED?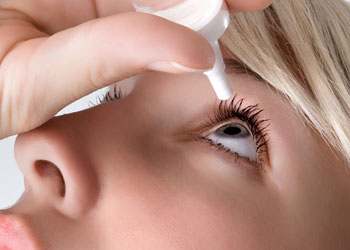 The main cause of DED is INFLAMMATION. Inflammatory cells in tears reduce the production of tears. This creates Tear Deficiency Dry Eye (less tears than normal). Inflammation also decreases the production of the oily layer of the tear film. This causes the watery layer of tears to evaporate too quickly (Evaporative Dry Eye).
HOW DO YOU TREAT DED?
TRADITIONAL DRY EYE TREATMENTS INCLUDE:
Over the Counter Artificial Tears
Hot Compress Massage
Prescription eye drops
Punctal Occlusion by punctual plugs
LIFESTYLE CHANGES MAY ALSO PROVIDE RELIEF
Increasing dietary water intake
Wearing sunglasses while outside and driving
Turning off bedroom fans
Increasing room humidity
Stop smoking
Oftentimes, traditional treatments and lifestyle changes fail to provide relief from DED. This is due to excessive inflammation in the body. In these cases, the inflammation in the body must be decreased in order to treat DED. This is done by identifying possible sources of inflammatory conditions.
Possible sources of inflammation include:
Food allergies
Hormone imbalances
Vitamin deficiencies
Digestive tract disorders
Mineral Deficiencies
Environmental Toxicities
Enzyme deficiencies
Fatty acid (omega 3:6) imbalance
Balance (homeostasis) is thought to be key to controlling inflammation in the body.